Your first visit to Long Island Center for Ear Nose and Throat Health will involve special steps so that we can get to know you. Our web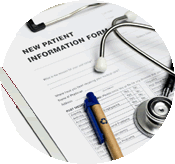 site will help you understand what to expect on your first visit to our office. You will find all the information you need, such as a map and directions to our offices, office hours, payment policies and more. We also describe our first visit procedures. You can save some time by printing out and completing the new patient forms in advance of your appointment.
Patient Forms
You can print and fill out these forms so we can expedite your first visit:
In order to view or print these forms you will need Adobe Acrobat Reader installed.
Click here to download Adobe Reader.
What to expect
Being prepared for your appointment will
Ensure that the doctor has all of the needed information to provide the best possible care for you.
Help relieve any unnecessary anxiety you may be feeling.
Educate you on your symptoms by reviewing the content on this Web site.
We look forward to your first visit.