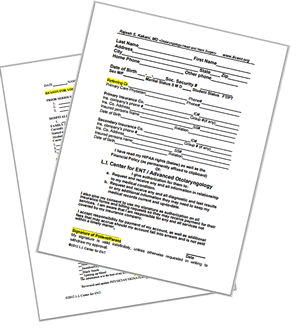 SUPPORTING DOCUMENTATION REQUIRED:
Health Insurance Card
Referral, if required
Photo ID
Completed Patient Information Forms (below)
PATIENT REGISTRATION FORMS:
If you are scheduled for allergy test, please do not take any antihistamines 72 hours prior to your visit.
These include:
Allegra
Astelin nasal spray
Benadryl
Clarinex
Claritin
Meclizine
Tylenol pm
Xyzal
Zyrtec
Thank you for choosing the Long Island Center for Ear Nose and Throat Health Group to care for your ENT & Allergy needs. We look forward to providing you with the high quality care that you deserve.